HEIRLOOM CUSTOM WOODWORKS Fine Custom
Furniture Tailored
Designs Exceptional
Craftsmanship
Cherry & Ebony Buffet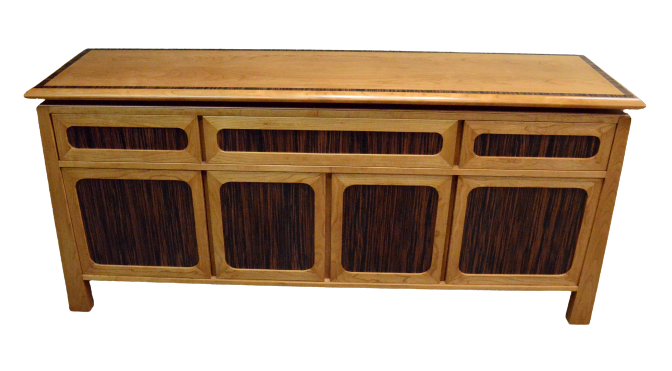 Door, drawer and side panel frames are Cherry.  Top is Cherry, bookmatched (pattern is mirror imaged). Panels are Ebony, as is the border inlay on the top.  Buffet dimensions: 70″ x 19″ x 33″ tall. Doors and drawers are "push to open."
Custom Nightstands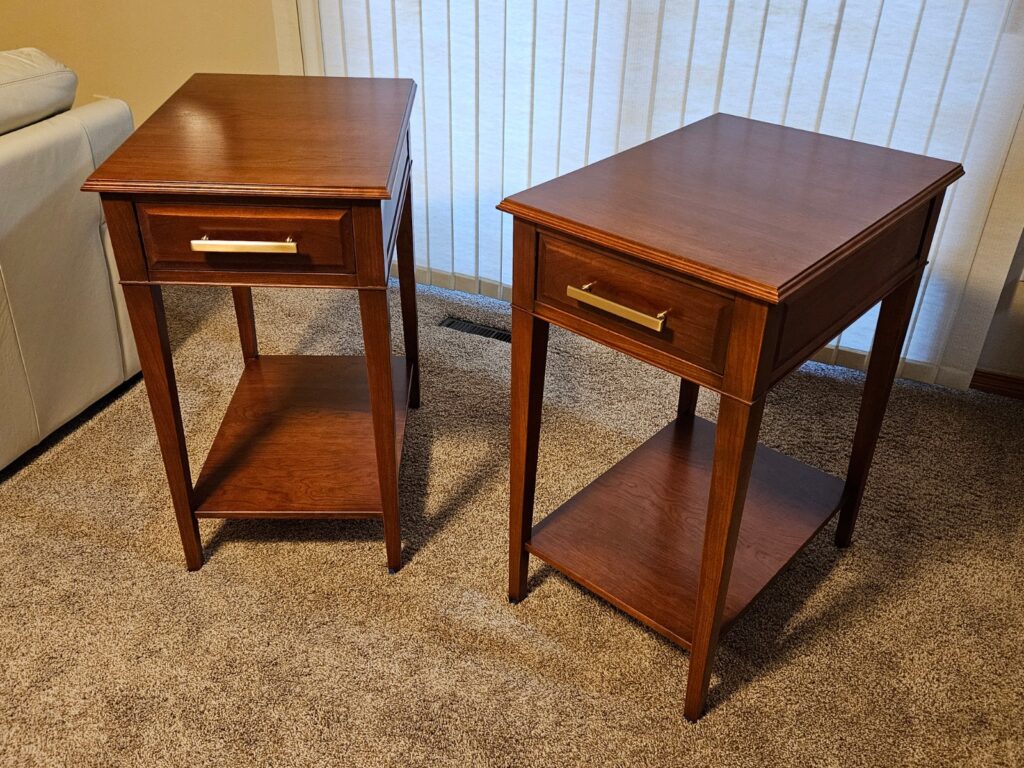 Custom nightstands – unusual dimensions: 18″ wide x 24″ deep x 32″ tall. Solid Black Cherry, stained to match existing bedroom furniture.  Soft close drawer slides. Finish is clear, catalyzed lacquer, satin sheen.
Maple & Cherry Cabinet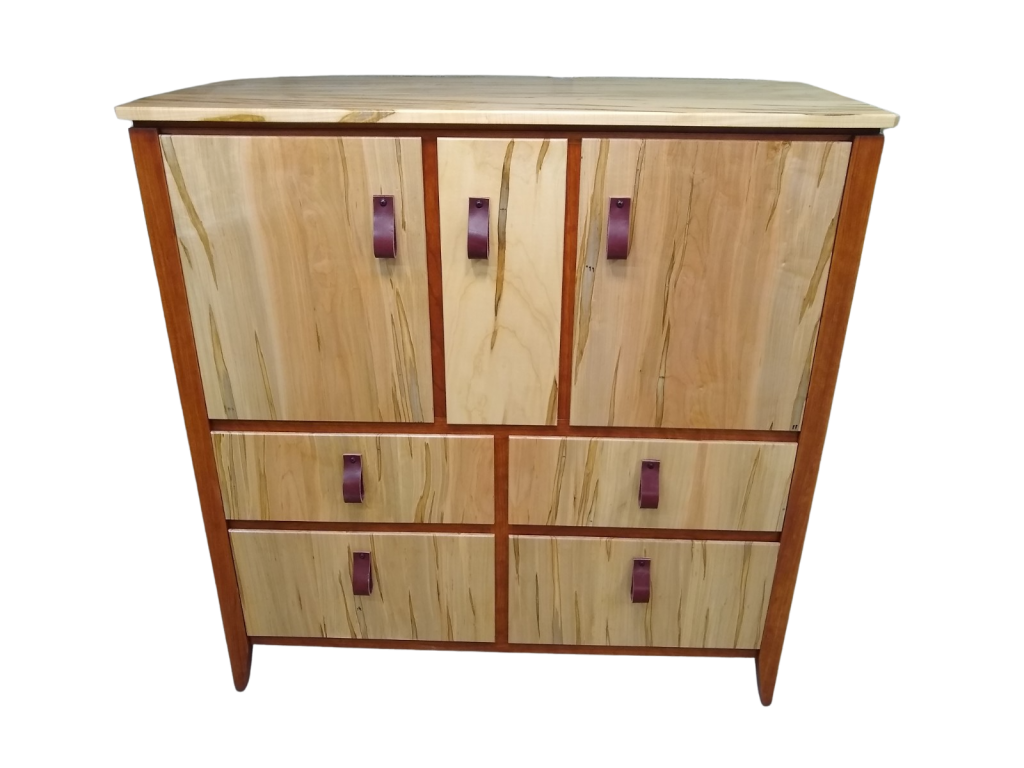 Maple & Cherry Cabinet Cherry frame, stained.  Ambrosia Maple doors, drawer faces, sides and top Catalyzed lacquer, satin sheen finish
Live Edge Console Table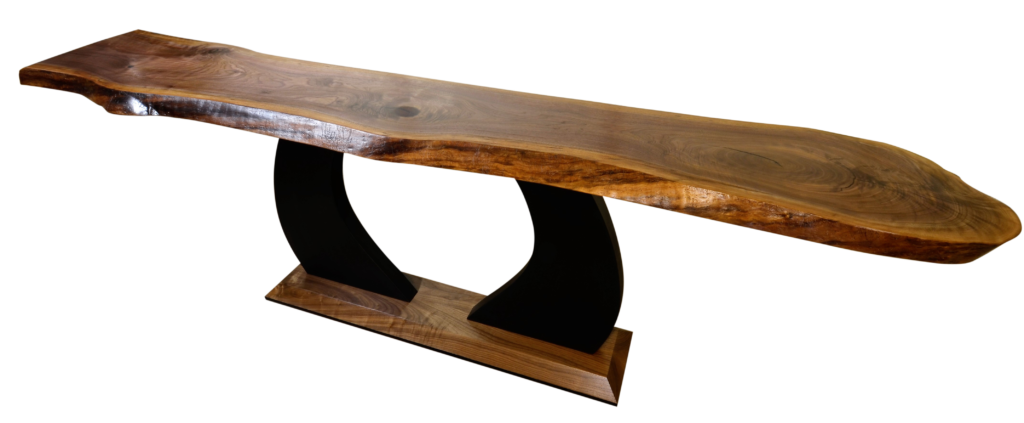 Live edge top is solid Walnut, 2 1/2″ thick.  Knots and checks filled with black tinted epoxy. Legs are constructed with cabinet grade MDF and painted flat black. Base is solid Walnut.  Top and base finished with catalyzed lacquer, satin sheen.
Maple & Walnut Table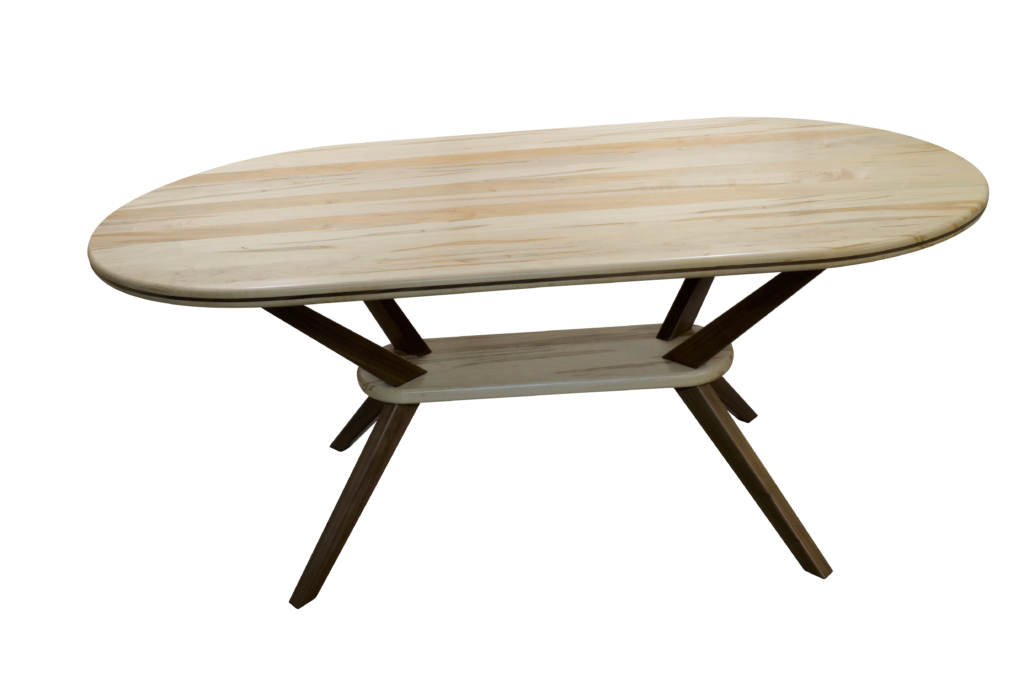 Oblong kitchen table, 68" x 36."  Top and middle base plate constructed with Ambrosia Maple.  Top edge is inlaid with walnut strip.  Legs and struts are walnut.  Natural wood colors (no stains).  Finished with catalyzed lacquer, satin sheen.
Reception Desk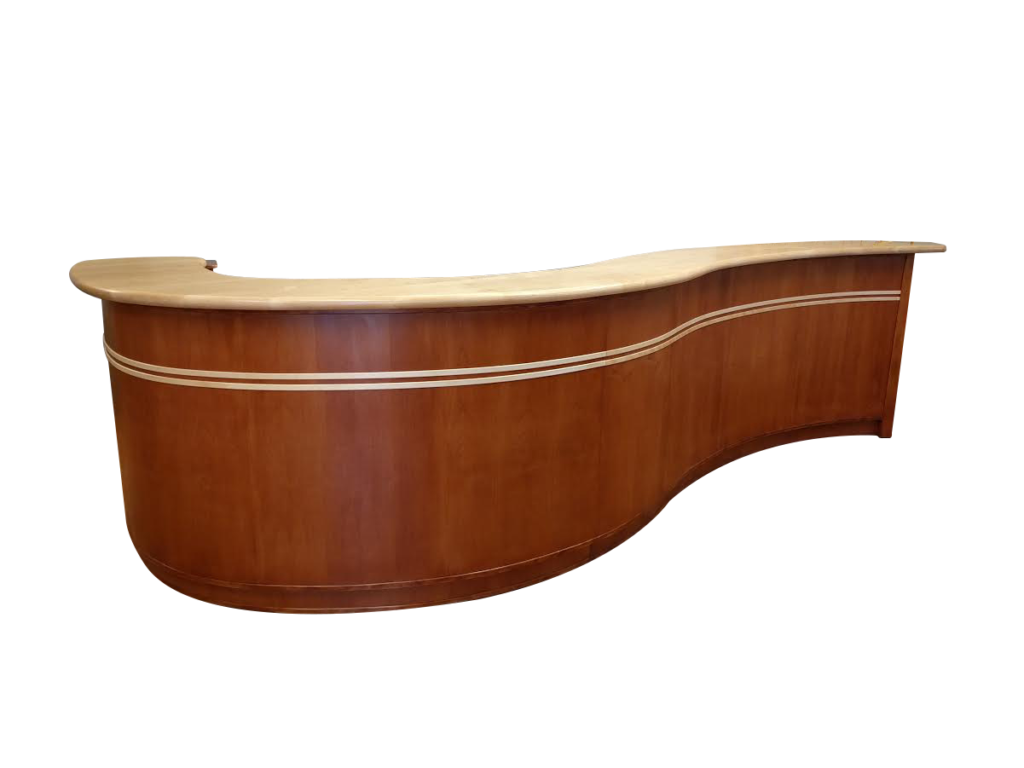 The base of this desk is framed with 2 ½" x 1 ¼" poplar lumber with 1/8" plywood secured to the studs. The surfaces are overlaid with Alder veneer and finished with a cherry stain. The countertop is solid hard maple, natural color. The desk behind the base has a plastic laminate surface selected to […]
Curviligne Desk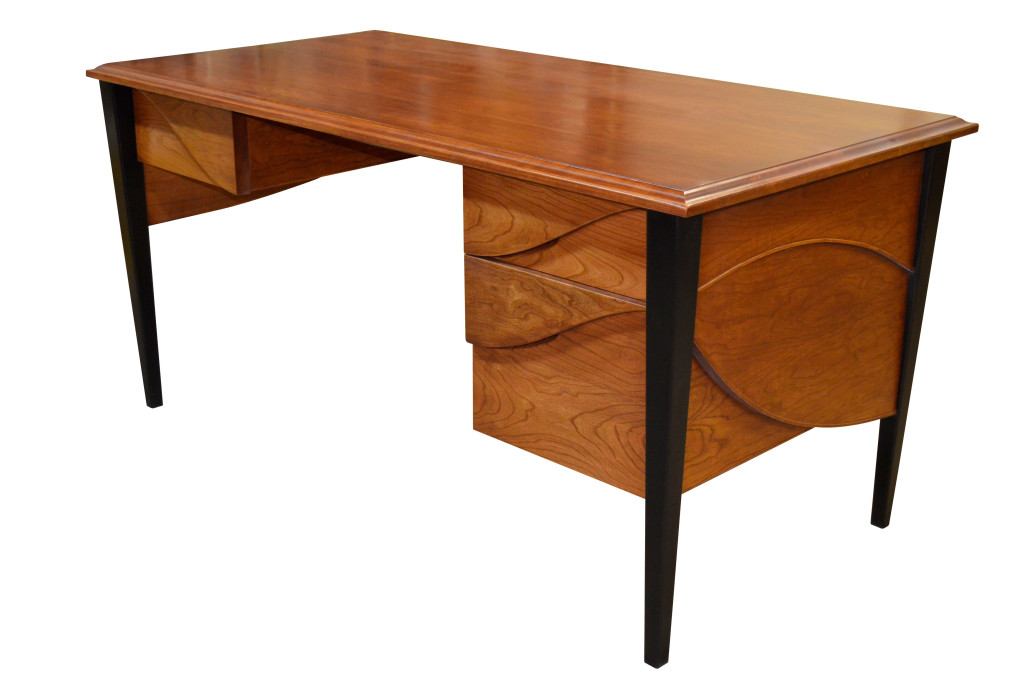 Black cherry desk. Solid top measures 60″ x 30″. Solid drawer faces incorporate handles into the flow design. Drawers glide on self closing Blum drawer slides. Panels are cherry veneer. Desk is stained with custom color. Legs are solid cherry, stained black with india ink. Desk is top coated with catalyzed lacquer, satin finish.
Bowed Front Cabinet – *Available for Purchase*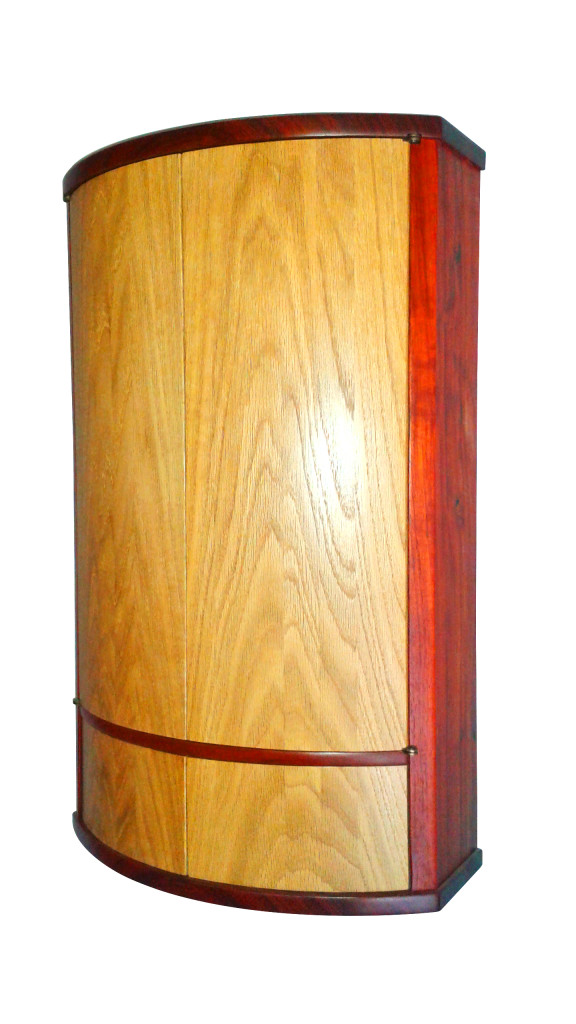 Curved White Oak doors and drawers with Touch Latch (push to open catches). Case is Andaman Padauk. 17" wide x 28" tall x 8" deep at center. This one of a kind piece is available for purchase! Price: $800 USD Contact me to discuss delivery or shipping options.
Sofa Table – *Available for Purchase*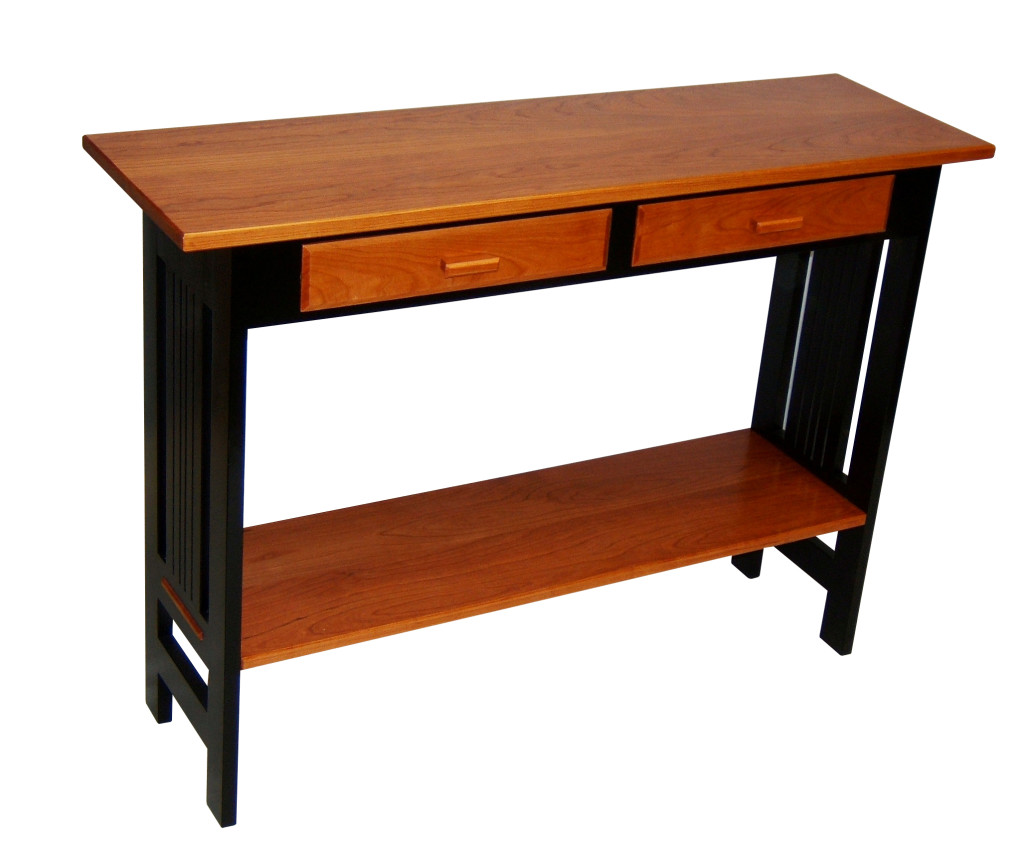 Black Cherry top, shelf and drawer faces. Black lacquer legs and frame. Carved Cherry drawer handles. Dimensions: 42" wide x 12" deep x 30" tall. This one of a kind piece is available for purchase! Price: $1200 USD Contact me to discuss delivery or shipping options.
Organ Cabinet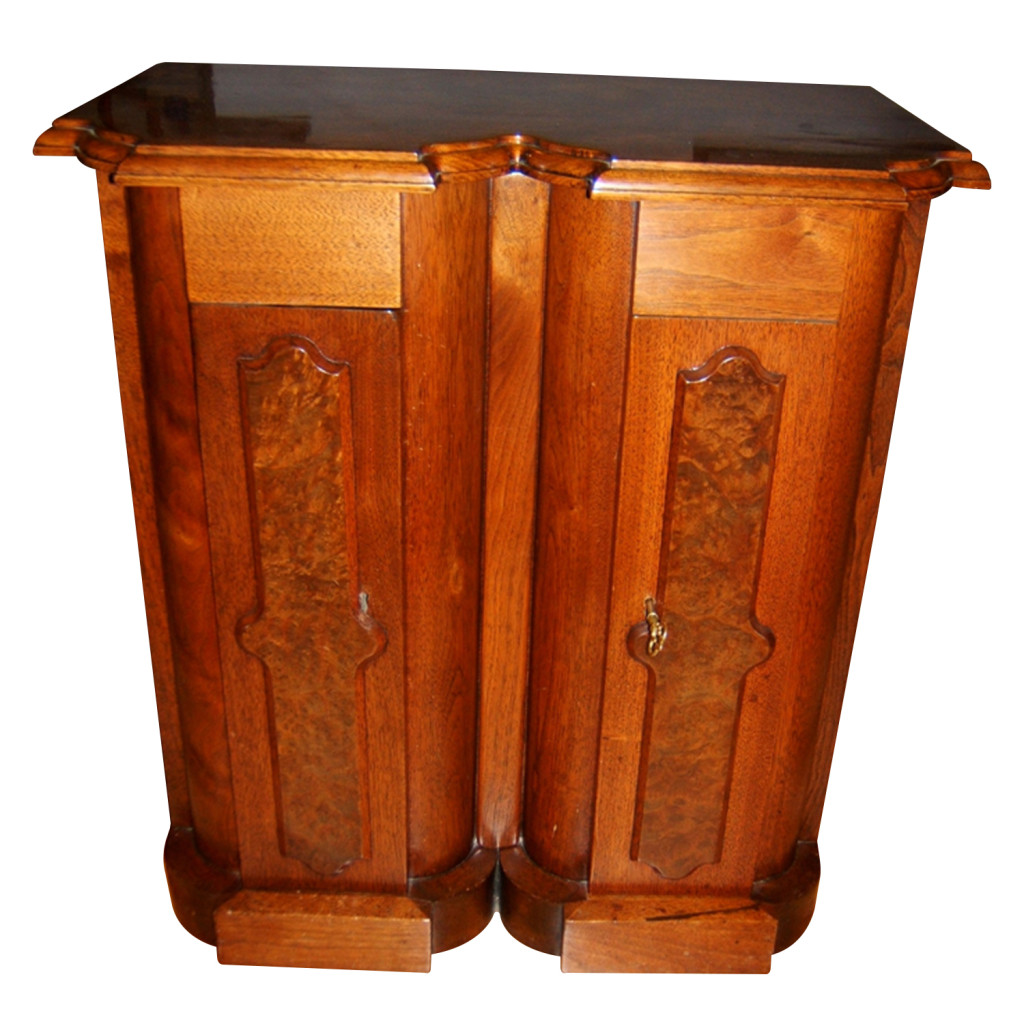 This piece is constructed using two sheet music cabinets from an old French organ. The Walnut cabinets were joined and a middle strip was added to conceal the joint. A new, solid walnut top was made, contoured to the shape of the cabinets. Stain was used to even out the color. It was then finished […]
Cherrywood Desk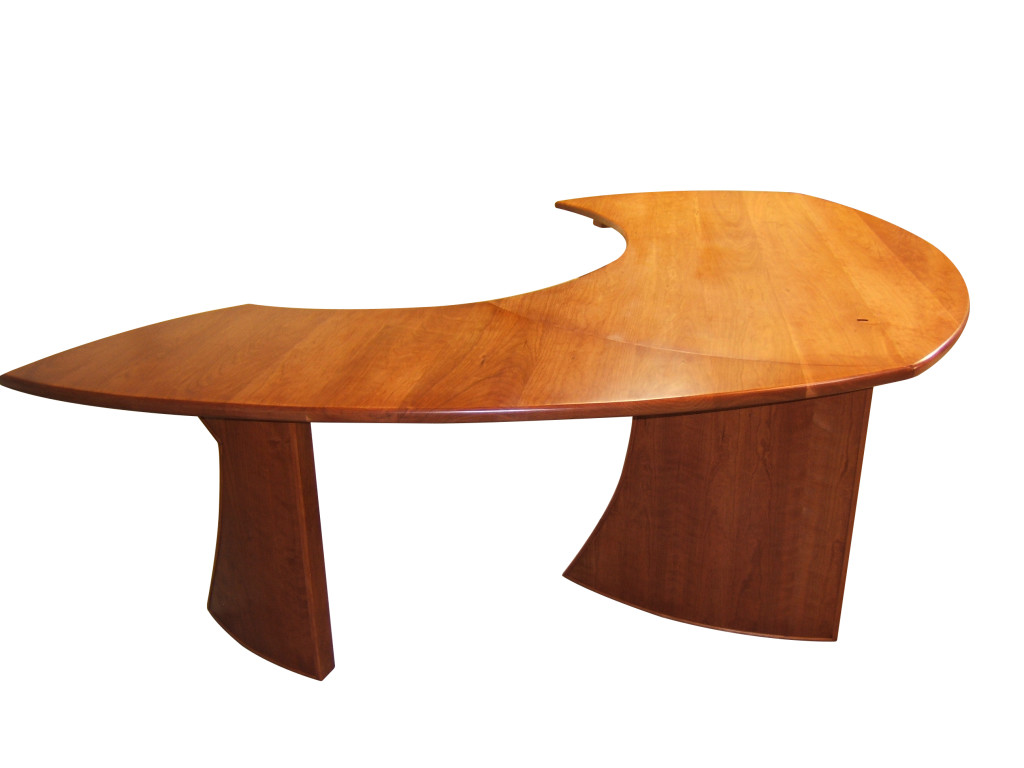 Black cherry desk with return. Desk dimensions: 80" wide x 48" deep. Desk and return combined dimensions: 96" wide x 84" deep. Tops are solid cherry. Curved pedestals are framed, covered with 1/8" MDF, then overlaid with cherry veneer. Stain color is custom per client's preference. Catalyzed lacquer finish.
Cherry & Walnut Bookcase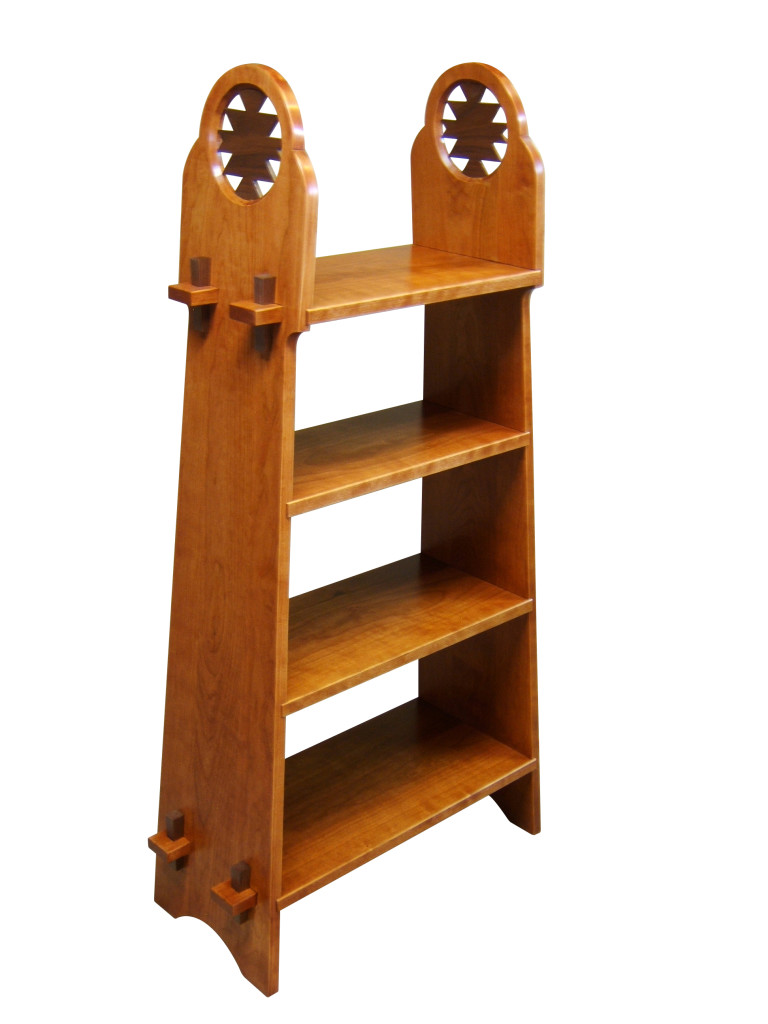 Solid Black Cherry bookcase with walnut tusk tenons and Hopi rug design. The bookcase is held together entirely by the tenons which can be tapped out to disassemble the unit.
Pet Safety Gate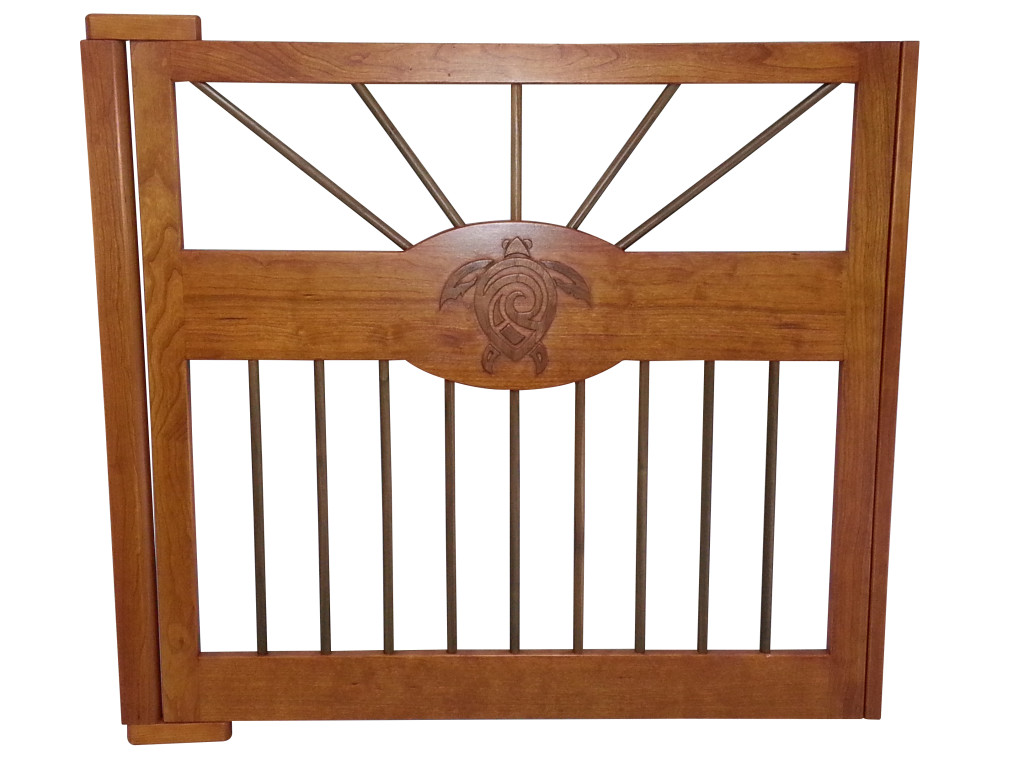 Gate is framed with Cherry. Spindles are walnut. Hawaiian turtle applique cut from 1/8" Walnut.
ABOUT MICHAEL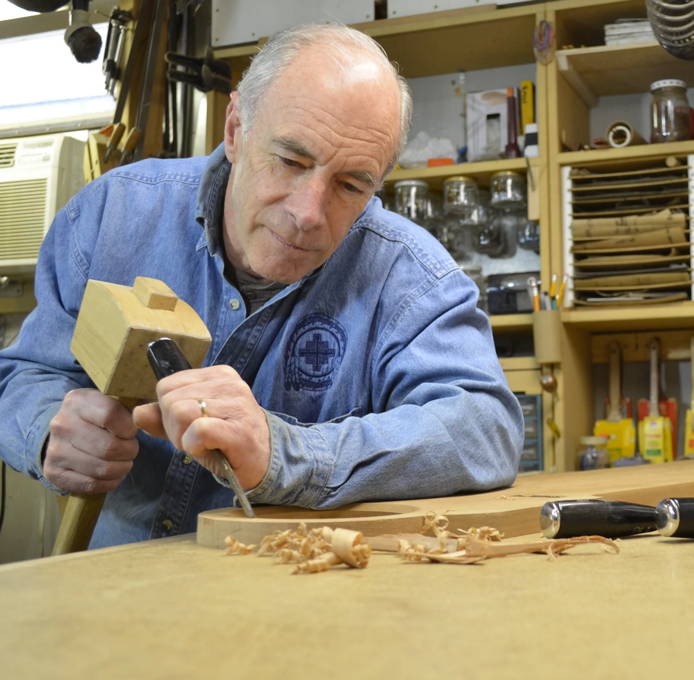 Captured by the beauty and character of wood, I became intrigued by the challenge of designing one-of-a kind pieces that highlight and integrate the figure, texture and color of natural wood. I came to appreciate the value of sound construction, attractive design and functionality, all tailored to the customer's requirements and design preferences.
- Michael Steinberg